Free tips for the best bathroom wall covering ideas
Have you ever thought about how many possibilities you have to decorate the walls of your bathroom? Although it might sound challenging, even wet environments deserve a touch of style and design. But how can you do that in an innovative and unexpected way? Don't stick with the plain aesthetic of classic and dated bathroom decorations and have a look to our tips for the best bathroom wall covering ideas:
Wallpaper
Even if it might sound dated, wallpaper has come a long way in the last years, becoming not only a perfect solution for high-design spaces, but also an option suitable for your everyday home needs, and bathrooms are not an exception. The exclusive range of waterproof wallpaper products will give you the chance to apply your dream decorative scenarios both on the bathroom walls and even in direct contact with the water inside your shower cabin.
Ceramic Tiles
One of the most classic and suitable wall covering options, ceramic tiles once applied will be a perfect match for any kind of humid environment. Thanks to their technical characteristics and to the wide range of sizes, colors and styles available, they are perfect to design your creative bathroom wall covering idea.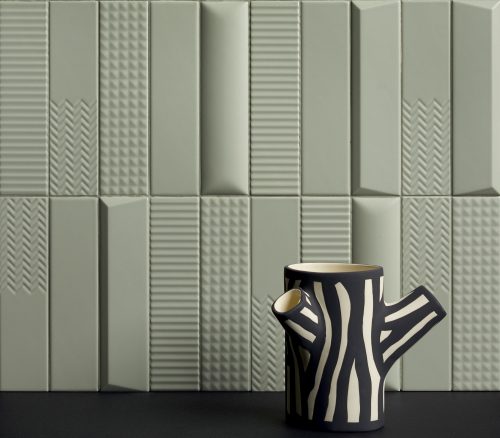 Extruded Porcelain Tiles 
The classic charm of the art of craftsmanship and handmade skills, together with the innovative and performative nature of this elegant material, will add an accent of style to the wall covering solutions of any bathroom and wet environment. The uniqueness of each tile will allow you to create a personalized style, enhancing the typical imperfections of this handmade product, which maintains all the technical benefits of a classic porcelain covering.
Decorative Panels
If you want to give an exclusive and modern touch to your home decoration, decorative panels are the product that might meet your desires. Their flexible nature, together with the latest digital printing technology have the potential to recreate the most exclusive designs and textures -from the elegance of precious stones to the modernity of original graphics – and to bring them even into the most challenging wet environments.
"And now don't waste time waiting, free your creativity and have fun with these tips to create your personal and unique bathroom wall covering idea!"
In this article you can find different solutions available and detailed on our web-site:
Contact Us: