Porcelain vs ceramic: different usage destination within the porcelain stoneware world
Many times when we talk about renovating a house, especially when we discuss on the choice of the most accurate product to refresh floors and wallcoverings, the terms Porcelain and Ceramic are used interchangeably as if they were referring to the same concept since they are both commonly used within the same application field.
Undoubtedly the two categories show substantial differences concerning composition and productive process so that both finished products maintain distinct and specific features, making them more or less suitable for different contexts of use.
First of all we must define that porcelain stoneware is to all intents and purposes a specific category and type of ceramic. 
Both types of products are in fact mainly composed of the same mixtures of clays, sands, and other raw materials such as minerals, kaolin, feldspar.
The first relevant difference between porcelain stoneware and ceramic, lies in the processing that these raw materials undergo before being manufactured. 
The production process of porcelain stoneware requires a mixture of clays and sands finer than those used during the production of ceramics, allowing to obtain an extraordinarily resistant material having a density extremely higher than most classic ceramic tiles.
The production cycle of porcelain stoneware requires a longer firing at higher temperatures favoring a specific chemical process called "vitrification" which, as a final result, generates a nearly waterproof product extremely less porous than ceramic. Exactly here lies the most significant difference between porcelain stoneware and ceramic, the level of water absorption is in fact the main distinguishing element between these two similar materials.
As for porcelain this rate is 0.5% or lower, making it a less porous material with a higher density and therefore higher durability, allowing its application for outdoors or even high foot traffic areas.
On the other hand, ceramic tiles have a water absorption rate higher than 0.5%, and the result is a softer product easier to work with, with silky and smooth surfaces and a more natural feel to it.
As already mentioned before, the less porous nature of porcelain tiles will make them also much more stain-resistant compared to all other materials, thanks to the low water absorption rate. 
This will be also reflected in a minimum effort required in terms of maintenance and cleaning of the surfaces but on the other hand, we should take into consideration many other elements before pronouncing a definitive distinction, focusing on why ceramic remains still today one of the most historical and widespread material in the world of coatings and wallcoverings. 
Nowadays the concept of ceramics mainly remains anchored to  the world of wall covering and wall decoration, in fact the decorative aspect confirms itself as being the strongest advantage of this material which is also characterized by great historicity and manufacturing tradition. 
The production of ceramics, in fact, allows the application of external components, such as vitreous elements, powders or fine grits, which once fired can guarantee the surface a unique brilliant and glossy final effect, with a fancy aesthetic and decorative impact.
The use of glazes on double firing processes with bright and glossy tones also allows to overcome the most classic issue of the water absorption. This treatment grants to seal the porous surface of the semi raw "bisque" and make ceramic tiles the most classic solution for wall covering in humid environments such as baths and showers.
Generally, the shades of a ceramic tile will always be more lively and brilliant;  thanks to its "softer" nature we can obtain an infinite range of small and varied shapes, capable of satisfying any requirement in terms of decoration and design.
The fascinating and emotional touch typical of ceramics remains still today unique and inimitable, not even applying the latest and most advanced digital printing technologies currently available in the world of digital glazed stoneware, keeping ceramics among the most used and charming furnishing for modern solutions.
Now that we listed the various technical features and differences between the two product categories, what can we consider as a general guideline in order to help us choosing the best solution for our needs?
Flooring vs Wall Coverings:  
This should be the first element to take into consideration on our decision. The purely decorative nature of wallcovering art compared with the need of hard wearing and durable material on flooring solutions, can easily address the usage of both porcelain and ceramic tiles. 
Ceramic, with its various shapes, sizes and bright colors, can satisfy any request in terms of decoration and design regarding wall coverings.  Porcelain instead, thanks to its technical features, will represent an optimal durable solution for your floors, requiring minimum efforts  in terms of cleaning and maintenance
Indoor vs Outdoor:
Outdoor environment solutions, such as patios or pool decks, mainly respond to the need for a highly resistant product, able to withstand weather conditions such as rain and humidity, maintaining an optimal level of grip to keep walking safe on wet surfaces. Porcelain stoneware tiles are certainly the best suitable solution for these circumstances.
Outdoor porcelain tile thickness can varies from the regular 10mm, with specific grip finishes in order to reduce slipperiness, up to the 20mm paver option, which can be laid directly over many different outdoor surfaces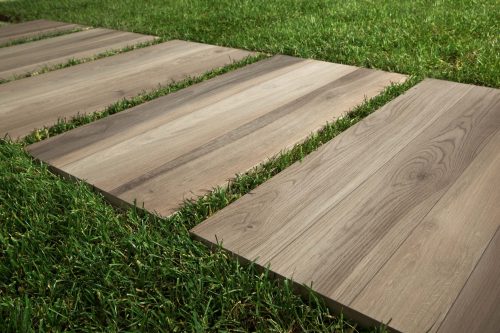 LOW TRAFFIC vs HIGH TRAFFIC: 
Different considerations are made if the product is intended to low-traffic/domestic or high-traffic and commercial areas. In these cases, different finishes obtained on the tiles can guarantee different levels of Anti-Slip of the surfaces, which may be strictly required for application on specific public high-traffic areas, such as shopping malls or airports.
On the other hand, ceramic, being a much more delicate and less resistant product, is not recommended in areas with medium or  high traffic;
WET vs NOT WET AEREAS
Porcelain is certainly the best solution for both wet and non-wet environments, thanks to its low water absorption rate. Despite this, glazed ceramic, thanks to the addition of specific vitreous powders that seal the porous surface of the material, can certainly be a classic and design alternative to your bathrooms and showers wallcoverings.
And now, don't waste your time and choose carefully the material for your next home renovation, to get an exclusive design with maximum comfort and functionality for all your environments!
And do not miss our useful guide with free tips to remodel your bathroom!
Stay tuned and keep following us with our next chapter about the latest Outdoor porcelain tile solutions for your gardens and pool decks!