Marble floors the 5 most elegant and trendy types
A beautiful and quality floor is one of the aspects that determines the design of a home, making it distinctive and unrepeatable. Marble brings with it a timeless elegance. It is a luxurious and refined material that will never go out of style. Styles and trends evolve, but marble will always have an unchanging place in any interior design.
Let's take a look at the 5 most elegant yet trendy types of marble flooring.
White marble floors
White marble is one of the most valuable materials to be used in construction; its charm, appreciated since ancient times, is the main feature that distinguishes it from other types of limestones. When talking about white marbles the first thing that will surely spring to mind is the precious Carrara marble, appreciated not only in Italy, but all over the world.
Our suggestions: Bianco Carrara, Statuario, Statuarietto, Calacatta
Black marble floors: a choice of character
Either you love it or you hate it! There are no half measure! Furnishing with black marble means wanting to create environments of class and elegance. Black marble should be chosen for large spaces in modern settings, and combined with materials such as steel and wood. A contemporary and minimal style is the one that fits perfectly with black marble and emphasizes its class, value and elegance.
The materials we recommend are the following: Black Marquina, Sahara Noir, Royal Black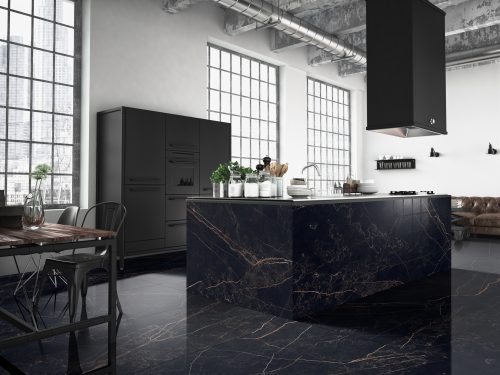 Black and white marble floors
The encounter between black and white is the most classic that can exist and gives a wonderful feeling to the sight. An ideal combination to create a contrasting harmony, but elegant. the combination of these two diametrically opposed colors, allows us to create refined and always trendy spaces. They turn out to be the perfect combination for houses with:
– a contemporary style;
– a minimal style;
– or a modern style.
Our suggestions: Nero Marquina and Bianco Latte
Marble floors in neutral colors
Neutral tones express a natural sense of relaxation, as they are reassuring, sober and embracing colors, always recognizable because from the very beginning they have been part of our daily life and of the human living environment iconography.
Neutral colors, as is obvious, are extremely versatile and easily matched with many styles of furniture. The success they continue to have over the years is in fact mainly due to their mimetic ability, the ease of creating contrasts and frequently changing the style of interiors.
Our suggestions: Travertine, Botticino, Perlato di Sicilia, Imperial Grey
Agglomerated marble floors
Agglomerated marble is obtained from a blend of marble chips and cement that gives an effect very similar to the Venetian flooring. It certainly represents a cheaper alternative, but with a strong customization. It is mostly used for the flooring of many luxury buildings, but it can certainly give a touch of class in residential areas as well.
Our suggestions: Grigio Antico, Breccia Aurora, Esco